Our Offerings
FlexSkill Consulting helps your company clarify your skills needs, builds a plan to address your needs, and, if necessary, fulfills your skills needs until you find a permanent solution.  The reason FlexSkill can do this is our senior partners have met similar challenges themselves; successfully.  FlexSkill's Offerings are built on decades of experience, learning, and success.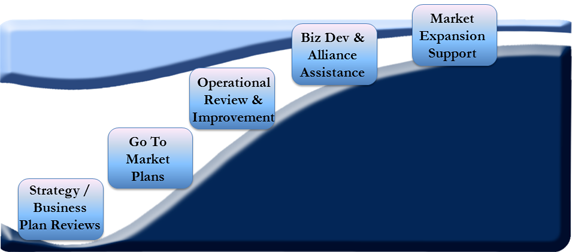 Summary of offerings:
Strategy and Business Plan Reviews

Go To Market Plans

Operational Review and Improvement

Business Development and Alliance Assistance

Market Expansion Support
Strategy and Business Plan Reviews
Value proposition analysis

Review product and technology strategy
Review customer and market strategy

Business plan review
Performance versus budget
Balance sheet utilization
Pricing and margin review
Go To Market Plans
Route to market options, analysis, and fit
Sales management process review
Go to Market readiness assessment
Business partner readiness
Partner recruiting and management
Sales force capability
Sales skills development
Operational Review and Improvement
Analyze and propose operational objective
Scope contributing forces, assess the organization, and conduct interviews
Outline the plan, responsibilities, and milestones
Execution support participation alternatives
Examples include:

Better integration across product development, delivery, and service
Connecting service, sales, and professional services to mutual benefit
Lower cost and short time to market by flowing requirements and making development more agile.
Business Development and Alliance Assistance
Define business development needs
Define organizational responsibilities
Develop execution plan
Execution support alternatives
Alliances with Industry Leaders
Business Development / Alliance Examples

Making co-opetition work for you
Meet your market needs by either focusing or broadening your biz dev relationships
Exploiting your size and speed in your value net
Market Expansion Support
Analyze new market potential
Match coverage needs with the desired markets
Suggest new routes to market
Review international coverage requirements
Introduction to international channels and distribution